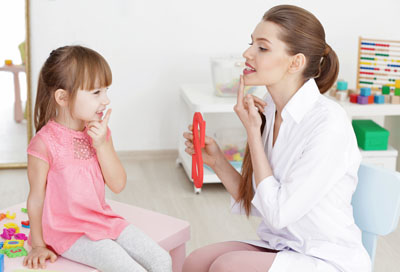 Wellington-Alexander Center is a one-of-a-kind, all-inclusive neurodevelopmental screening, assessment and treatment center. We differ from typical language/learning disability treatment centers because we employ a medically-based, scientifically proven intervention program that aims to treat the root causes of your child's language deficits and reading challenges, not just the symptoms. We evaluate and treat patients of all ages, from toddlers to young adults.
MAKE A CHANGE IN 2018
Whether you have developmental concerns about your preschooler or a school-aged child with a learning disability, Wellington-Alexander Center can help. You can make a change in 2018. Our cutting-edge treatment model is interdisciplinary, so your child can be evaluated and treated by a speech-language pathologist, occupational therapist, and psychologist. There is a common misconception that people with dyslexia are unable to change the way that they read. This is simply not true. Our intensive intervention and reading therapy is a scientifically proven program that makes it possible to experience significant improvement with language-based learning challenges. This, in turn, can improve a child's quality of life by making things easier at home and at school, and by building their confidence that they have the ability to perform at the same level as their peers.
DYSLEXIA INTERVENTION
Dyslexia is a common challenge that often goes undiagnosed. Nevertheless, statistics show that one in five children is dyslexic. Dyslexia can affect a child's abilities in a variety of areas including processing language, speaking, reading, reading comprehension, writing, executive function, and more. Still, dyslexia does not have to be so debilitating. The impact of dyslexia can be significantly diminished with our intensive intervention and therapy. Participants in our program experience significant results that will last a lifetime.
We provide one-on-one intensive dyslexia intervention and reading therapy for children who have language-based learning deficits, and who need assistance to help improve their ability to read and comprehend, spell effectively, and communicate clearly.
HOW IT WORKS
Our therapy works in large part because of how intensive it is and the way in which it is delivered. Our intervention program is designed to combine speech-language and occupational therapy services. Treatment is individualized; that means our one-on-one therapy is personalized and adjusted daily to meet the specific needs of your child. Therapy is intensive, so your child will take a medical leave of absence from school and receive treatment 3-5 hours per day, 5 days per week for 6-9 weeks, based upon the age of your child and his/her individual needs.
The added benefit is that it allows a child to receive intensive intervention services and then to return to school, in short order, so that they can continue progressing and learning. The reason so many parents choose our intervention program is because of our robust results. Committing to our intensive program for a short period of time results in significant and lifelong changes, whereas attending programs that are delivered in a less intensive way results in limited and temporary progress, which ultimately requires repeated therapy over a period of years.
Our program uses methodology that is scientifically based to get to the root of the problem. Through our program, we help children to form the building blocks for good language-based learning, to include reading, writing and communicating clearly. Children are exposed to an integrated multi-sensory approach to learning, wherein we address children's difficulties with decoding, processing and encoding language. In most cases these challenges are due to a lack of phonemic and phonological awareness. Phonemic awareness is the ability to manipulate sounds within words by blending them together. Phonological awareness is the ability to identify and manipulate units of oral language such as words and syllables. Both are necessary to read, write and communicate successfully.
START TODAY
If you are ready to make a difference in the life of your child, and improve his / her quality of life, now is an excellent time to call and learn more about our intensive intervention and reading therapy program. By working closely with your child, we can make it possible for them to read in a whole new way. Learn more by calling today.