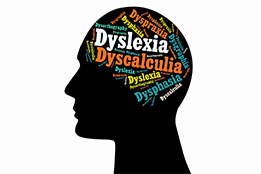 Learning disabilities, or learning disorders, are umbrella terms for a wide variety of learning challenges. A learning disability is not an issue of intelligence or motivation. In fact, children with dyslexia are often highly intelligent, and by definition have either average or above-average IQ scores. For that reason, they are frequently able to come up with coping skills that mask their challenges and make it difficult for others to identify that they are dyslexic. However, as children grow older, their compensatory coping strategies become less effective. It is at this point that most parents seek help.
It is crucial that the basic building blocks of language be in place, and that the proper skills are developed to ensure that an individual has the ability to receive instruction. Once that has been achieved, an individual can go on to learn a variety of skills across the academic curriculum. The most common types of learning disabilities involve problems with reading, writing, math, reasoning, listening, and speaking.
Dyslexia
Dyslexia occurs when there is difficulty understanding the relationship between sounds, letters and words. Reading comprehension problems occur when there is an inability to grasp the meaning of words, phrases, and paragraphs.
Dyscalculia
Learning disabilities in math vary greatly depending on the child's other strengths and weaknesses. A child's ability to do math will be affected differently by a language / learning disability, or a visual disorder or a difficulty with sequencing, memory or organization.
Dyspraxia
Motor difficulty refers to problems with movement and coordination whether it is with fine motor skills (cutting, writing) or gross motor skills (running, jumping). A motor disability is sometimes referred to as an "output" activity, meaning that it relates to the output of information from the brain.
Aphasia/Dysphasia
Language and communication learning disabilities such as aphasia and dysphasia involve the ability to understand or produce spoken language. Signs of a language-based learning disorder involve problems with verbal language skills, such as the ability to retell a story and the fluency of speech, as well as the ability to understand the meaning of words, parts of speech, and directions.
If you would like to learn more about dyslexia and other language-based learning disabilities and the treatment we provide, call (480) 439-0099 to schedule a free consultation.