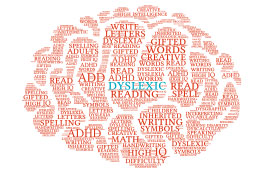 As defined by the International Dyslexia Association (IDA), dyslexia is "characterized by difficulties with accurate and/or fluent word recognition, and by poor spelling and decoding abilities. These difficulties typically result from a deficit in the phonological component of language that is often unexpected in relation to other cognitive abilities, and the provision of effective classroom instruction."
Dyslexia is generally described by families and educational specialists as a difficulty with learning to read or interpret words, letters, and other symbols. It is important to note that dyslexia is not an indicator of general intelligence. In fact, children with dyslexia are often highly intelligent, and by definition have either average or above-average IQ scores. For that reason, they are frequently able to come up with coping skills that mask their challenges and make it difficult for others to identify that they are dyslexic. However, as children grow older, their compensatory coping strategies become less effective. It is at this point that most parents seek help.
People who have dyslexia and receive intensive intervention treatment in accordance with our medically-based, scientifically-proven methodology, are able to improve their language-based learning skills in areas including, but not limited to: reading, reading comprehension, spelling, writing, and verbal communication. Our dyslexia interventions are delivered on a one-on-one basis, and incorporate treatment techniques that are delivered by therapists specially trained in our methodology. The treatment is explicit, direct, cumulative, intensive, focused on the structure of language while simultaneously coordinating the use of visual, auditory and kinesthetic-tactile learning pathways.
Our interdisciplinary treatment method, including the combination of speech-language therapy and sensorimotor therapy is highly impactful. It is designed to create neuronal connections in the brain required to be able to understand sounds that make up words and connect them with the way it looks when those sounds are made by someone else and the way those sounds feel when made by oneself. This treatment program, delivered in an intensive environment, ensures that those neuronal connections are made to support language-based learning going forward to enable improved reading, writing, spelling and verbal communication.
Since there is no one-size-fits-all dyslexia treatment, patients require customized programs to help improve their specific deficits. Programs that do not address the patient's specific and individual challenges will be far less effective in helping them.
DYSLEXIA OVERVIEW
The phonological system of language is the first system of language that develops in infancy, and acts as the basis upon which the other systems of language develop (e.g. the semantic and syntactic language systems). Weak representations of individual phonemes, and their subsequent relationship to each other, result in weakness with oral language, which can interfere with one's ability to receive instruction to read, write, spell and communicate verbally.
Treatment for dyslexia involves creating the basic building blocks of language to allow for language-based learning to continue. This will enhance the ability to read, write, spell and communicate verbally. Medicines and counseling are not normally part of the dyslexia treatment process, unless the patient is also diagnosed with an attention disorder such as ADHD. A crucial part of the overall process of diagnosing and treating dyslexia is educating families and educational professionals about the condition. The earlier we can recognize potential signs and symptoms of dyslexia and address the issues, the better. Starting treatment when a child is young will provide the basic building blocks of language required to learn to read and develop other language-based learning and communication skills, in preparation for a more successful school and life experience.
If you would like to learn more about dyslexia and other language-based learning disabilities and the treatment we provide, call (480) 439-0099 to schedule a free consultation.