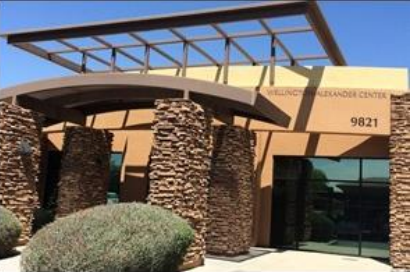 About Wellington-Alexander Center
At Wellington-Alexander Center we provide intensive intervention services for individuals with dyslexia or other language-based learning disabilities. Our one-of-a-kind, all-inclusive neurodevelopmental screening, assessment and treatment center offers collaborative care for all ages.
---
Beginning the process is simple. Wellington-Alexander Center offers a FREE one-hour consultation for any parent or guardian to come learn more about what we do to determine if we are the right fit for your child. You can request this free consultation here online, or feel free to call us to schedule your appointment. We will collect some preliminary information from you as background for the consultation, and request copies of any reports or data you may have from prior testing. If you have conducted no prior testing, we can provide guidance on what testing is recommended. Wellington-Alexander Center is an all-inclusive neurodevelopmental screening, assessment and treatment center for dyslexia and other language-based learning disorders. Based on your child's individual needs, we may recommend assessments to be conducted at our center to determine a diagnosis of dyslexia or other language-based learning disabilities. Should there be a need, our center differs from typical language/learning disability treatment centers because we employ a medically-based, scientifically-proven intervention program that aims to treat the root causes of language/learning disabilities, not just the symptoms.

We have an interdisciplinary approach toward the development of language-based learning. That interdisciplinary approach includes speech-language specialists and occupational therapists, as well as psychiatric and psychological services if needed.

Please call us to learn more about how our program can help you or your loved one to maximize learning potential, evaluation to determine potential diagnoses outside of our specialty, we can make recommendations or offer referrals. After a review of test results, we will recommend next steps for treatment, and develop an individualized treatment plan for each specific patient's needs.
---
---
Our Mission

Wellington-Alexander Center provides individuals affected by dyslexia and other language-based learning disabilities with the opportunity to reach their full academic and social potential through language and learning using research-driven language and learning tools with a transdisciplinary approach, providing robust and life-long results.
History

Wellington-Alexander Center of Scottsdale, Arizona was founded by Ann Alexander, MD, a neurodevelopmental pediatrician. The center opened its doors in June of 2003, but its establishment was preceded by more than 25 years of research, knowledge, experience, and success achieved at Dr. Alexander's Morris Center in Gainesville, Florida. The Morris Center was awarded federal research grants by the National Institute of Child Health and Human Development (NICHD) to scientifically assess the efficacy of the language interventions for children with dyslexia, both for the short-term and the long-term.

Two five-year grants allowed them to treat and follow 120 severely dyslexic children in 3rd-5th grade performing at second percentile or below, discovering that:
After 9 weeks of intensive (daily) intervention, dramatic increases in both oral and written language and learning skills were apparent. The gap between ability and achievement was closed for both accuracy and comprehension.
The positive effects were maintained in the majority of the patients during the one- and two-year follow-up intervals.
Optimal control of attention was a key component for learning and continued growth during the follow-up period.
In another arm of this initiative, the team was involved in research focused on kindergarten students identified as at-risk for dyslexia (performing below the tenth percentile) and discovered that:


Upon completion of the scientifically-based intensive intervention, the students were reading at grade level with normal fluency.
When measured again at fourth grade, students continued to be at grade level in accuracy and fluency.
Control groups were given equal time and attention, receiving other reading /phonics support methods. They did no better than the "no treatment" control group.
Dr. Alexander had the opportunity to work on this research with her sister, Jane Lawyer, an experienced educator with training in the scientifically-based therapy. Jane had previously been serving struggling readers in the Litchfield Elementary School of Litchfield Park, Arizona, achieving similar results. Knowing the needs in the Phoenix area, Jane and Ann decided to open Wellington-Alexander Center in hopes of achieving the same kinds of success for children here in the Valley of the Sun.

Indeed, Wellington-Alexander Center is achieving these outcomes with their patients here in Arizona. When all of the developmental pieces of the "puzzle" (language, attention/behavior and sensorimotor) are addressed intensively, systematically, and in an integrated manner, individuals are able to reach their full potential. Refer to the published articles and visual data for further details.

A family foundation, the Fred J. Wellington Memorial Foundation for Child Development, was created in 1999 in memory of their father. He had some difficulties with language-based learning, as did some of his children and grandchildren, and was so proud of the work being done at the Morris Center. He wished that there was some way to "spread the word" and help more children. Hence, the mission of the Foundation to do so. Ann and Jane serve on the Board of Directors.
---
---
Hours of Operation
---
Monday:

8:30AM to 4:30PM

Tuesday:

8:30AM to 4:30PM

Wednesday:

8:30AM to 4:30PM

Thursday:

8:30AM to 4:30PM

Friday:

8:30AM to 3:30PM

Saturday:

Closed

Sunday:

Closed

Clinical hours are by appointment only.
---