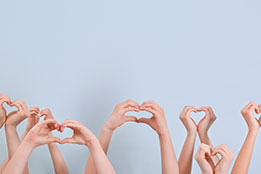 At Wellington-Alexander Center we feel it is part of our mission to serve the community as a resource on dyslexia and other language-based learning disabilities. To that end, the center's leadership team is excited to announce the development of a new preschool initiative launched in January 2018 to promote early awareness of signs to watch for and resources to seek when dyslexia or other language- based learning disabilities are suspected.
We will also be rolling out some workshops in 2018 for parents, guardians and teaching professionals to promote community awareness and support best practices among professionals working in the field.
Community Awareness Events
Throughout 2018, we will begin to host periodic community awareness events focused on providing information to parents, teachers, students and community members who would like to learn more about dyslexia and other language-based learning disabilities. These events will include such things as attendance at charity events to promote community awareness and benefit those with dyslexia, as well as in-house workshops to include informal presentations given by our professional staff members followed by Q&A, which will cover subjects such as (but not limited to):
What are warning signs of dyslexia?
How does the brain process language normally? How is it different with dyslexia?
How do I know which intervention is right for my child?
How do we tackle the costs associated with tutoring, special schools or intensive intervention?
What are some good strategies to keep the momentum going in the summer?
Like us on Facebook to keep up with the latest information about dates and details for our Community Awareness Events.
Professional Development
In our efforts to continually promote awareness and best practices in the educational community, our center offers professional development opportunities to educators and speech-language pathologists. We specialize in training that teaches skills to strengthen the oral language foundations that are necessary for the efficient development of reading, writing and spelling. The techniques we teach are based on the science of neurodevelopment and have been shown to be effective when delivered properly. We can individualize a training program to fit the needs of an individual or small group. The trainings we offer range from a brief overview done through a short in-service to a comprehensive training in specific techniques that will arm professionals with the tools needed to effectively reach children with language-based learning disabilities.
It is estimated that 10-20% of school children struggle with these very issues. This is a perfect opportunity for your preschool or school to bring the most current, scientifically-based information on dyslexia and language-based learning disorders directly to your teachers and parents. Please contact us today to get more information, or call us directly at (480) 439-0099.
Speaking Engagements
Are you a part of a mothers' group, church group, scouting group or PTO? Our team of speech and language professionals are sometimes asked to come present to local organizations that want to offer their members community resources on pertinent issues. If your group is interested in having our team prepare a customized presentation on issues important to your membership, we would love to help you.
This is a great opportunity to help your members be aware of potential warning signs of dyslexia and other language-based learning disabilities, and to know what steps to take if they already have concerns about their children's language skills. Please contact us for further information, or call us at (480) 439-0099.
Join Our Community!
Like us on Facebook to see updates on upcoming Community Awareness Events! We'd love to be a resource no matter where you are in your journey – whether you are a preschool parent wondering about that "backwards letter" or you are years down the road of reading troubles and unsuccessful tutoring. Our mission is to serve families like yours who need the right information to embark on a path to treatment.
Check us out on Facebook!